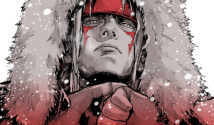 This past weekend's 17th annual Cooperation Cup 2019 in Tokyo, Japan hosted a massive 5-vs-5 team tournament in Street Fighter III: 3rd Strike. Returning artist Yoshihara Motoki drew some special "official" illustrations for the promotion of the tournament. As always, Yoshihara's beautiful art style really makes a statement... and in this case, captures the "aura" of the original artwork from Street Fighter III: 3rd Strike. Check out all of his Cooperation Cup 2019 artwork, below.


You can check out more of Yoshihara's amazing fighting game artwork at his official Twitter account @Yoshihara_Game.

Stay right here on FightersGeneration.com for the best fighting game artwork.