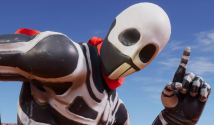 Arika announced the official release date for Fighting EX Layer. The game becomes available digitally on June 28th, 2018 exclusively on PS4 (and is PS4 Pro enhanced, as well)! Enjoy a new batch of screens & artwork. The "Light" version is $39.99 (includes all 12 main characters, 5 Gouji Decks + 2 trial Gouji decks which will rotate weekly). The "Standard" version is $59.99 (comes with Hokuto DLC + all 15 Gouji Decks).


Arika mentioned that if the game sells well enough in the first 2 months, Fighting EX Layer could see an additional 4 or 5 DLC characters and a Steam release around September.

Arika also posted a new 12-minute gameplay video today!


Stay tuned on FightersGeneration.com for continued coverage of Fighting EX Layer.