Fighting EX Layer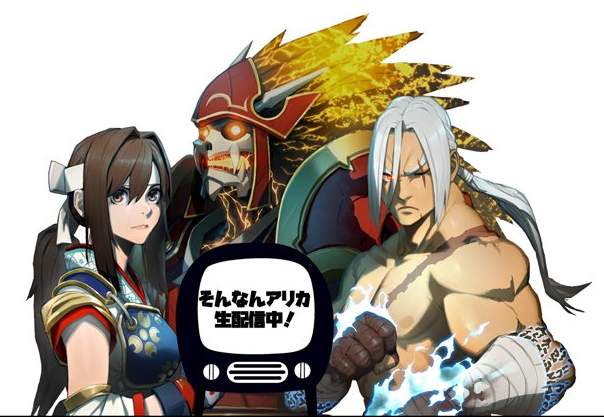 ABOUT: Fighting EX Layer is an work-in-progress fighting game by Arika, the developers of the Street Fighter EX series and Fighting Layer. The project was originally teased as an April Fools joke in 2017, with the company showing actual in-game footage. (I knew something was up, because the game engine was clearly real.)

Arika wouldn't purposely play with our emotions for no reason, because many fans have been asking for an Arika fighting game successor for a long time now... I only wondered when Arika would decide to reveal the game that they're actually working on.

Sometime around 2014 or 2015, Arika released some developmental footage of a fighting game project for the Nintendo 3DS, featuring Kairi and Hokuto. That project never finalized, of course, and it seems the project turned into what you're looking at now. Interestingly, the 3DS project features some of the same updated mechanics found in the more-polished version that Arika is now working on.

Fighting EX Layer will borrow some familiar mechanics from the Street Fighter EX series. Some character special moves and animations are even the same. Clearly, the game is still development, and will surely evolve and change in the future. The game's "Gougi" system is said to be a "a very deep and exciting" addition. The Gougi system's design aims to change the flow of matches, enable players to have different ways to play depending on their Gougi. Characters can obtain various power-ups and special abilities through the Gougi system. More details coming soon.


Stay tuned on FightersGeneration.com for full coverage of Fighting EX Layer. More information and details coming soon. The Playstation 4 beta test will begin on December 11th, 2017. The online beta will run for 2 weeks and features 6 playable characters: Kairi, Garuda, Skullomania, Darun Mister, Allen Snider, and Shirase. Arika's goal in the beta is to test network match function and hope to retrieve plenty of player feedback.

Page Updated:
November 18th, 2017
Developer(s):
Arika
Publisher(s):
Arika
Designer(s):
Arika Nishitani
Platform(s):
Playstation 4
Release Date(s):
TBA 2018
Characters:
Allen Snider, Kairi, Hokuto, Skullomania, Darun Mister, Doctrine Dark, Garuda

Featured Video:

Related Games:
Fighting Layer, Street Fighter EX, Street Fighter EX2, Street Fighter EX3, Killer Instinct (Season 3), Tekken 7, Injustice 2, Dragon Ball FighterZ, Blade Strangers, Blazblue Cross Tag Battle, Street Fighter 5: Arcade Edition

Gameplay Engine
Story / Theme
Overall Graphics
Animation
Music / Sound Effects
Innovation
Art Direction
Customization
Options / Extras
Intro / Presentation
Replayability / Fun
"Ouch" Factor
Characters

BOTTOM LINE

Final Words:

The original Fighting Layer was a very obscure 3D fighting game released only in arcades in 1998. I only got around to learning it about and later playing it in the mid 2000's. I never thought (in a million years) I'd be creating a TFG profile for pretty much a sequel to Fighting Layer... but starring Street Fighter EX characters. On that note, the title of this game is a bit... odd. I was thinking something starting with "Arika EX" or "Arika Fighter" would've been appropriate. As a matter of fact, the title I'd choose for the game is, specifically: Arika Fighter EX Layer Plus Alpha. Now that has a nice ring to it.

As one of the first ever 2.5D fighting games, Street Fighter EX has an undeniable importance in fighting game history. Something about the SFEX series is just so nostalgic... and many would say it's an under-appreciated gem in the years following its release. One of the driving forces behind this nostalgia is, of course, the memorable character designs. Needless to say, it's awesome (and almost unbelievable) to see the likes of Allen Snider, Darun, Kairi, Garuda, and the fan-favorite Skullomania returning to the limelight once again.

Say what you will about this game in its early stages... but this is clearly a fighting game made for old school fighting game fans, first and foremost. And if you've been keeping up with the trends, this isn't always the case in all fighting games of today - which now star a lot of household names and superheroes. That said, Fighting EX Layer looks to pack tons of fan service and nostalgic nods to gameplay and visuals... but hopefully, it will provide something unique and different to the current climate of the fighting genre. ~TFG Webmaster