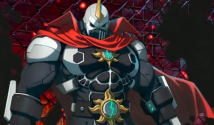 In Arika's official stream today, producer Nishitani was present to make some big announcements about Fighting EX Layer. For starters, the game will officially be released in June 2018 on PlayStation 4. If Fighting EX Layer is successful enough on PS4, the team said they'll possibly bring it to Steam. Two versions of the game were announced: a $59.99 version containing 12 characters & 15 Gougi decks, and a $39.99 "light" version containing 10 characters and 10 Gougi decks. Finally, returning character Shadowgeist was announced! Below, take a look at the latest character select screen and official Shadowgeist artwork!


Watch Shadowgeist's official trailer below.


Stay tuned on FightersGeneration.com for full coverage of Fighting EX Layer!