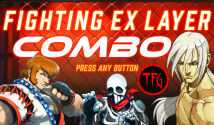 Now that the Fighting EX Layer PS4 beta has concluded, TFG presents an exclusive combo video starring Allen Snider, Kairi and Skullomania. For each character, I cover a wide variety of combos: beginner, intermediate, cross-ups, jump-ins, corner, etc. I didn't try to break the game during the beta. Instead, I focused mostly on combos that I think will make the cut to the final version of the game. That said, if you plan on learning any of the above characters, definitely take a look at these combos. I hope all of you SFEX originals enjoy the video. (Don't forget to like and drop a comment!)


[UPDATE] And thanks for featuring my video Shoryuken.com. This marks my 10th featured video on SRK.

Stay tuned on FightersGeneration.com for full coverage of Fighting EX Layer!