>
Sunday, July 16th, 2017

Skullomania & Darun Mister Join Arika's "EX" Series Fighting Game Project, PS4 Release/Beta Confirmed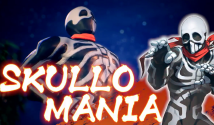 Arika showed off the newest build of their new "EX" series fighting game at EVO 2017 today. In the new trailer, Skullomania and Darun Mister make their epic return from the Street Fighter EX series. Arika announced the title is coming to PlayStation 4 in 2018 in North America, Europe and Japan. The trailer teases that the game "could" be playable by April Fools 2018. A limited time playable beta/server test will also be held on PS4 at the end of 2017! The game's official title is still "undecided".

Of course, FightersGeneration.com will keep you up to date on any new information regarding this work-in-progress title by Arika.

Sources: Arika (Youtube), ARIKAFGC, Call Me Anger
Related News: (4-1-2017): Arika Teases New Fighting Game Project on April Fools Day 2017,
Related TFG Links: Fighting EX Layer, Fighting Layer, Street Fighter EX, SFEX2, SFEX3, Garuda, Kairi, Hokuto

Visit SHOP TFG to check out
awesome and rare fighting
game items for sale on FightersGeneration.com!

*NEW ITEMS ADDED*
AUG 7th, 2017!

✔FOLLOW FIGHTERS GENERATION ON:





.