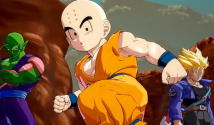 You know you want to check out some fresh Dragon Ball FighterZ gameplay footage from Gamescom '17, featuring the likes of Krillin, Piccolo, the Androids, and Future Trunks... right? Of course you do. Check out the newest build of DBFZ, featuring 11 playable characters (with much room to grow). Enjoy over 15 minutes of footage, below! Thanks to DBZanto Z and TGN Anime for the gameplay videos. [UPDATE] Added another 14-minute video from IGN featuring producer Marcello Carlino and Product Managers Matheiu Kemenade & Gary Gillet.


If you want a chance to play Dragon Ball FighterZ early, don't forget to sign up for next month's closed beta test. For North American players on Playstation 4 or Xbox One, head over to Bandai Namco's official site to sign up (HERE). European players can sign up for the beta on Playstation's official site (HERE)!

Dragon Ball FighterZ is coming to Playstation 4, Xbox One, and PC in February 2018.