>
Thursday, August 23rd, 2018

12 Minutes of DOA6 Gameplay From Gamescom '18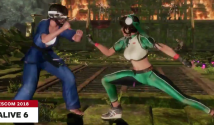 Koei Tecmo director Yohei Shimbori attended Gamescom 2018 and brought the latest build of Dead or Alive 6 for fans to try out. This 12-minute IGN DOA6 gameplay video from GC '18 (below) features plenty of footage of the newly announced characters, Hitomi and Lei Fang. The returning female fighters even show off some alternate colors for their default outfits. Other characters such as Hayabusa, Hayate, Diego, Jann Lee, and Zack also make an appearance, battling out on the new pirate stage: Forbidden Fortune.

In the first video, catch 12 minutes of DOA6 gameplay from Gamescom '18. The second video is the earlier reveal trailer for Hitomi and Lei Fang.


See TFG's previous article for screenshots and renders of DOA6's Hitomi and Lei Fang.

Sources: Koei Tecmo, Siliconera, IGN
Related News: (8-19-2018): DOA6 Hitomi & Lei Fang Screens, Renders, Reveal Trailer,
(8-8-2018): DOA6 Gameplay from EVO 2018, Lei Fang & Hitomi Silhouettes,
(8-1-2018): Diego & Rig Revealed for DOA6, New Gameplay,
(6-18-2018): 30+ Minutes of DOA6 Gameplay from E3 2018,
(6-10-2018): 13 Mins of DOA6 E3 2018 Gameplay, New Details,
(6-8-2018): Dead or Alive 6 Announced, Reveal Trailer, Screenshots
Related TFG Links: Dead or Alive 6, Lei Fang, Hitomi

Wanna get into streaming your favorite games? Download Streamlabs OBS today!
It's easy, FREE, and fun... Give it a try.
<- Click the Streamlabs image to download now!

Visit SHOP TFG to check out
awesome and rare fighting
game items for sale on FightersGeneration.com!

*NEW ITEMS ADDED*
SEPT. 16th, 2018!

✔ FOLLOW FIGHTERSGEN ON:





.