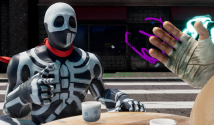 With all of the crazy hype surrounding new fighting game announcements as of late, it might be easy for some "mainstream" gamers to forget that Fighting EX Layer exists... which would be a shame, since FEXL is a very unique indie fighting game made by developers with roots deep in the genre's vibrant history. With SNK's Terry Bogard and SFEX series veterans Sharon and Area on the way as DLC fighters, the potential and future of FEXL is looking good. Speaking of looking good... below, check out some brand new 4k resolution screenshots of the recently released Steam version!


You'll find additional 4k screenshots in TFG's Fighting EX Layer profile. Once again, here's the Fighting EX Layer November-December 2018 schedule as posted by Arika.

Fighting EX Layer - Nov./Dec. 2018 Schedule
11/14(JST) Introduce the Release Notice on the Steam Store.
11/23-24(JST) Showcase a playable demo of the Arcade Version at ARCREVO Japan 2018 venue.
11/29(JST) Begin the release of the Arcade Version (1.1.1).
*The North American release is still not confirmed.
11/30(JST) From 10:00AM, begin the release of the Steam Version (1.1.1).
11/30(JST) Until 5:00PM, perform a Version Update (1.1.1) on the PS4 Version.
12/6(JST) Begin selling the Physical Copy (Japanese Version Only)
12/14(JST) FIGHTING EX LAYER 2019 Schedule

Coming up on December 14th, we'll be hearing more about Fighting EX Layer's 2019 update! Stay tuned on FightersGeneration.com for continued coverage of Fighting EX Layer.