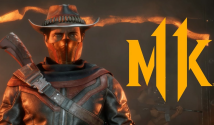 Today, NetherRealm Studios released the second story trailer for Mortal Kombat 11. "Allies, past and present, will be called upon to protect the Realms from Kronika." The trailer begins with Kronika setting up the time-shifting plot, with characters new and old making their appearances in a "new era" of Mortal Kombat. Returning MK11 characters Erron Black, Cassie Cage, Jacqui Briggs, and Kotal Kahn are revealed in the trailer, some of them even appearing in actual gameplay. Enjoy the official trailer below!


Additionally, check out the first gameplay videos of Cassie Cage and Kano (below), which also feature new footage of Johnny Cage, Geras, Scorpion, Sub-Zero and Baraka.


Stay tuned on FightersGeneration.com for continued coverage of Mortal Kombat 11.