THE BEST OF THE BEST... THANKS FRIENDS.

~ Frank Joseph / Mr. Yagami
TFG Webmaster here... I'm my own toughest critic, and I've lost many hours of sleep working on this website. In the end, my 20+ years of passion have paid off in more ways I can describe. TFG is one of my life's accomplishments. I'm glad other people still enjoy fighting games and ART as much as I do. (TFG was up and running before the acronym "FGC" was popular, or even used.) After designing the TFG website from scratch, I would later sink 1000's of hours into maintaining, updating, coding, writing mildly-entertaining reviews, writing news articles, making videos, keeping "party games" off the site, and managing TFG social media for over 2 decades. TFG is something I can be proud of. Thanks to your support, I can keep it going for longer than originally expected. Enjoy The Fighters Generation and fighting games for life, my friends!



Nicole Ashley / Ashylnn Blue
For being my one and only amazing wife, first of all! Thank you for being patient & understanding when I'm spending hours working on TFG articles, website stuff, social media posting and/or doom-scrolling, and of course... playing TEKKEN. Also thanks for being TFG's awesome proofreader and making sure I don't butcher the English language. Also, thanks for being wonderful every day. Thanks for being the Big Boss Queen and a martial arts master who teaches me many things. (No really, she's actually a "Master" ranked 5th Dan blackbelt, in 3 styles, and an amazingly talented and disciplined martial artist.) Words could never do justice to how special you are and how much I love you. <3



William Fong (JET3000)
Shooooosh! Thanks for being one of my best friends, a lifelong sparring partner in MVC2, SoulCalibur & TEKKEN, a big inspiration in my life, and of course... being TFG's original OG Featured Artist. Also thanks for always cracking me up with your epic voice acting and inspiring me to keep drawing. Many fun times, many fun memories. Session soon? Love ya brother.



David King
For selflessly helping and supporting the website for well over a decade, such as sending in timely news updates, links & corrections. Also thanks for co-creating two awesome TFG-themed arcade fight sticks back in the day, and for sending me ALL of the awesome birthday & X-Mas gifts over the years! Thanks for being a generally good guy with a great heart. There aren't enough people like you in the world!



Ivan Vasquez (THORN19K)
For donating over $1000+ on TFG Twitch (OMG!) and being a visitor of the website for 15+ years! 0.0 Seriously my friend, your support is incredible and I can't thank you enough in words. Also, thanks for browsing TFG while riding inside a freakin' U.S. Army tank... on the job. You badass.



Hisham "Futeki" Al-Kubeyyer
For being a TFG visitor and supporter since the very beginning. Thanks for your wise words of wisdom and awesome input, my friend! Also, thanks for sending me amazing birthday gifts (Art of Tekken, DMC5 Collector's, etc). And not to outdo yourself, thanks for buying me a friggin' video game console - something no one besides my parents ever did in my lifetime. (I love my Nintendo Switch w/Pro controller + Smash Ultimate.) REALLY COOL of you. Now people are going to ask me to put Smash on TFG. lol. Finally, thanks for teaching me about your culture. It's amazing to have a friend in another country.



JudoDarkFist
Shoooosh! Thanks for being one of my best friends, a worthy rival in fighting games, and introducing me to the greatness of NEOGEO Pocket Color and Card Fighters Clash back in the early 2000's. Thanks for sharing your wisdom and inspiration over the years. Also, thanks for proofreading my old school reviews and adding your input (and many years of fighting game experience) back in the day. Also, thanks for your 6 years of service in the U.S. Navy, brother!



Supersaiyan V (Vashaun)
For contributing a countless amount of high quality and formerly RARE Capcom & SNK images and GIFs over the years... Thanks for the help creating TFG character profiles, brother!



Phantom Cipher
For contributing many high quality and RARE fighting game images and GIFs over the years... Thanks for the help creating those earliest TFG character profiles, my friend!



Orochi Master
For contributing amany high quality Capcom & SNK images and GIFs over the years... Thanks for the help creating those early TFG character profiles, man!




EPIC CONTRIBUTIONS... TFG LEGENDS.


Alejandro Castillo
For creating some of TFG's most beautiful banners!


Castleford (Kyle)
For tons of Power Stone, World Heroes, JoJo's Bizarre Adventure, and Samurai Shodown: Warriors Rage images over the years as well as character info.



Cloudvii
For a handful of story fixes, corrections, artwork, and banners! Thanks for all the help!



Cooper Sowell
For being a TFG visitor from the beginning and donating a very generous $200 to the website. Also thanks for mailing me an import PS3 copy of Battle Fantasia + FFXIII Demo back in the day! Sick care package, thanks for the memories man!



DarkLordDragon
For tons of rare artwork from The King of Fighters series + info for profiles... Much appreciated.



Eren Yildrim (Rock-H.)
Thanks for creating awesome TFG banners and graphics over the years, including the sexy Credits banner at the very top of this page!



Fuzzy-X-
For tons of great Street Fighter pics, gifs, and info.



Goenitz96 (Malaysia)
For contributing TONS of rare gifs and artworks.



Gustaf Bengtsson
For contributing Capcom and SNK character info.



Havik0666
For donating over $250 on TFG Twitch and being a TFG supporter for many years! Thanks man!



Joram AKA ZweiFuss
For ripping nearly all Street Fighter III: Third Strike gifs and for your website being a TFG Affiliate!



Mootusernae (Tooms)
For high quality scans / artwork for Battle Arena Toshinden 2 and Weaponlord, among others. Also for providing me high quality, thought-provoking fighting game-related conversations via DM on social media and Twitch, and many laughs. You're a cool dude, Tooms. Thanks for being my friend from afar!



Ron Kazama
For being TFG's first "featured player" back in the day and always inspiring me to improve my Tekken and Street Fighter skills.



Saiki
For allowing me to use character bios & story info from his Samurai Shodown FAQ, and also for several Capcom VS SNK 2 character rips as well!



Serkilo
For contributing a ton of rare character artwork and images from: Namco X Capcom, Sengoku Basara X, Capcom VS Series, Samurai Shodown, Mortal Kombat, Rage of the Dragons, Rumble Fish,& more! Also for spotting several broken links for me to fix! Thanks man. ;)



Slayer Z
For many Guilty Gear pics & other high quality art.



SonicX360
For contributing a ton of rare Rival Schools artwork. Also personally ripping Project Justice "Party Up" Artwork, story mode artwork, and endings! This includes some of my favorite fighting game artwork of all time... so thanks man!



TheEvilReverend
For contributing over $125 on TFG Twitch and being a TFG visitor for many years! Thanks bro!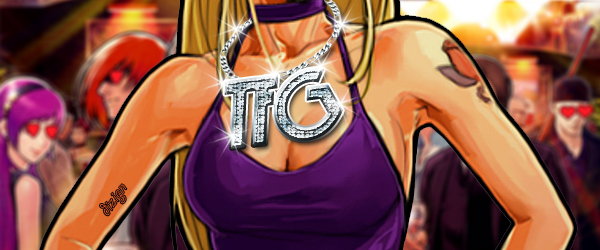 AngelGirl (Diana)
For quite a few rare fighting game character pics & sketches.



Anna Tatarchuk
For sending in Battle Arena Toshinden 4 artwork + character bios!



Antuniey
For ripping & contributing 2D sprites from The King of Fighters XII,
Super Street Fighter 2 HD Remix, and others.



BlodiaVulcan5
For making me into a Guilty Gear X style sprite & a Pocket Fighter
style sprite, as well as creating a kick-ass TFG banner.



Byron
For Warzard gifs and other high quality images.



Byron R. (Technics420)
For some awesome high-res Marvel & Capcom pics, among many others.



Cid
For KOF2001 character art.



DarkBlade77
For several Guilty Gear X sprites.



David Leblanc
For many, many news updates and interesting reads!



Derrick D. Aviles
For creating quite a few awesome TFG Banners!



Dragunov911
For many, many timely news updates!



Genryusai
For quite a few character images... I can't remember which ones. lol.



Gojara
For Card Fighter's Clash 2 art.



Gunsmith
For Card Fighter's Clash 2 art.



JenZee
For allowing the use of her amazing artwork on The Fighters Generation website and being a long-time visitor of the site. Also, congrats on continuing to be an amazing artist who worked on video games like HADES... Game of the Year 2020! (Twitter/Deviantart).



Kahn
For a handful of helpful news updates.



Kim Moon-Soo
For several timely news alerts, and great feedbacks as well!



LDAWB
For allowing the use of his amazing character illustrations of Rival Schools, Street Fighter, Final Fantasy characters, etc., and participating in TFG's Artist Spotlight in 2020! (Instagram).



Magegg
For hooking me up with a copy of Xuan Dou Zhi Wang & supplying much appreciated game & character info!



MaiShiranui123
In 2020, a person is still cool enough to send me HIGHER QUALITY versions of character artwork from X-Men Vs Street Fighter, MSH Vs. Street Fighter, Marvel Vs. Capcom, and SNK Vs. Capcom: Card Fighters Clash 2/DS? Sometimes it's hard to believe I'm still updating TFG character profiles with higher quality images for 20+ years. So thanks MaiShiranui123 (cool name) for keeping the TFG spirit and fighting game spirit alive and well! (Twitter).



Marco Markizzle
For contributing extremely rare Marvel VS Capcom 2 "VS Screen" artwork (making TFG the first place on the web to have them).



Meg Hopper
For many news alerts, some rare pics, King of Fighters XIII
artwork, and also fixing up the Marvel VS Capcom 3 artwork!



Platinum Mishima
For sending many images and artworks!



Ridureyu
For info and images for King of Fighters 2001 characters.



Rodrigo Coimbra
For originally compiling an organizing TFG's Review / Rating Google Doc - which includes links to all of TFG's Game Reviews, in order, from lowest scored to highest rated. Also thanks for sending in several news updates back in the day!


Salamander
For some rare images and for creating some cool banners!



Solrac
For a lot of helpful character info.


Steve Mack (Kandoken)
For allowing the use of his amazing artwork on TFG and continuing to create very inspiring fighting game (among other) artwork! (Twitter/Instagram).


The-Pixellator
For a variety of Street Fighter Alpha gifs, including: Evil Ryu, Fei Long, Balrog & others.


"The Sixth Saint" Masamune
For being a fan & supporter since the beginning, for tons of Jojo's Bizarre Adventure character info, and also also sending in many timely news updates, leaks, and other information!



Xechs
For Blazblue: Continuum Shift & KOF XII animations!



Yassir S. Rasan (Seeso2D)
For allowing the use of his awesome fan art on the site and being a guest artist for TFG's Banner Contest 2015. Keep on drawin' man! (Deviantart)



Zazzarius
For many Guilty Gear X gifs & Rips.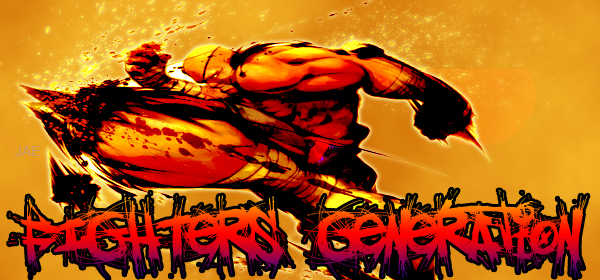 Aenthin
For a ton of Phobos / Huitzil animations.


Afi
For Tatsunoko Fight animated gifs, rips, and character info.


Aztec Godfather
For creating some great TFG banners.


Behemothbear
For posting and cropping King of Fighters XIV character artwork.


BinaryMan
For Samurai Shodown 6 character artwork.


Brimlow
For character stories & artwork for some obscure fighting games.


Corey AKA Robo-Corey
For some rare pics & warzard Animations.


Dark Howard
For Classic Iori, Nests Style Kyo & Ex Mr. Karate KOF XIII artwork.


DarkinfernoZ
For several Blazblue animations!


David V. Kimball
For social media icons. (Davidvkimball.com)


Eric
For spotting some errors and for sending in a variety of rare animated gifs.


ErikkuTheFox
For KOF XIII win portraits, dialogue faces and endings.


Gavok
For info on JoJo's Bizarre Adventure characters.


Gilgamesh
For several pics & scans.


H. Laville
For sending in high quality PAL box arts for several games.


Hidralalo
For a particularly cleanly edited Kinu Nishimura 2019 Darkstalkers illustration.

Jirish
For Card Fighter's Clash art.


Juy Mad
For SNK VS Capcom Chaos pics.


Killa Intent
For hookin' me up with all Power Stone characters official
storylones among some other helpful stuff.


Neo Gunloc
For Virtua Fighter 5 character pics.


Paradox
For several Capcom VS SNK gifs.


Rainer
For submitting some cool pics.


RaptorRage
For submitting a handful of timely news updates.


Rinoa
For a cool Remy pic & some other stuff.


Roger
For several SNK VS Capcom Chaos gifs.


Ronaldo "Dangerman" Martinez
For contributing high quality KOF XII character artworks.


Ross
For some "rare" Soul Calibur art.


Ryu867
For several timely news updates, complete with screenshots.


Ryu_Hadou_Mstr
For Capcom VS SNK gifs.


Sabi
For some Guilty Gear X sprites.


Santi
For Super Skrull images.


SeidakuRyu
For contributing several cool images.


SeraphXion
For contributing Arcana Heart 3 endings and official artworks.


Shadow Theory
For Power Instinct: Matrimelee info.


The Ultimate Ice
For several fan arts.


Wolfgirl
For some rare Siegfried images.


Yashiro
For lots of rare SNK character art.


Young Kazuya
For a several images / artwork of fighting game characters.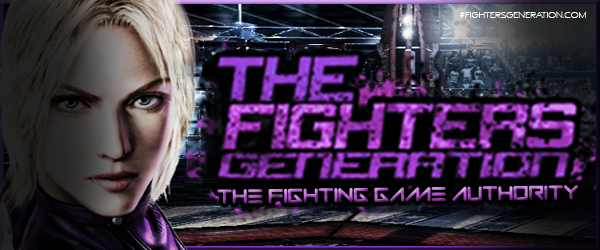 THANK YOU FOR HELPING ME KEEP THE LIGHTS ON AT TFG...
AND INSPIRING ME TO KEEP DOING WHAT I DO.

$1000+
THORN19k


$300+
Whiskypail
StiGGe / Marcus
Malthivarius
Havik0666


$200+
TheEvilReverend
Futeki360


$50+
NeonXiphos
BlackStatus61


$40-$5
TopHatSamurai, SmoothAmbitious, Shiggitee, illest513, DiamondMike1000, Xivyide, Kid Funky Fresh, RavenXtreme, Trevor-Webster, Nudificaistrum, Soulbrotha91, LBD, Caretcake, Bloper97, SeraphXion, Amr W., Ishmael H, Steven Shaw, etc! Thanks a lot guys! I appreciate you.



Q: What are the TFG Credits?
A: The Webmaster's way of thanking the many individuals who have contributed content to FightersGeneration.com, or permitted the use of artwork, images, animated GIFs, character / game information, news, proofreading, corrections, etc.

Q: I want to contribute. What can I send?
A: Anything fighting game related that you don't currently see on the website, or a higher-res / higher quality version of content that already exists. Official artwork is preferred. Fan art submissions are only accepted by the creator and reviewed before posting (there is no guarantee your fan art will be posted). Please don't submit fan art unless you are the original artist. If you don't want to add content to the website but want to support the future of the site, feel free to send a Tip / Donation.

Q: Where do I send / email content?
A: You can attach files to your email (or send download links) and contact the Webmaster HERE. Or you can share the files on social media via DM @Fighters_Gen. Please do not send me images in a zip file. P.S. Conversations about anything related to the website or other questions are always welcome via DM on TFG social media. That's because I'm a real person and I work very hard on this website. Thanks FGC.


Thank You For Your Contributions!

You can also contribute and support FightersGeneration.com by viewing and periodically clicking on image and video advertisements displayed on the website (please disable ad-blockers), watching ads on TFG's Youtube videos, Donating, purchasing items from the TFG Shop, or subscribing on TFG's Twitch channel. Thanks for being a part of TFG and the growth of the fighting genre! "Long live fighting games!"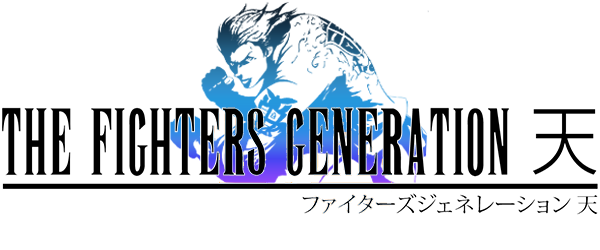 Frank "Mr. Yagami"