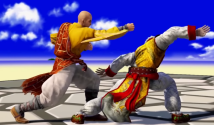 Multi-talented combo video creator, Desk, is back with another editing masterpiece. The animation quality and authentic martial arts references of Virtua Fighter 5 are certainly some of the game's strongest attributes. Desk's latest video captures many of VF5's most defining mechanics and animations, including wall throws, ground throws and various counters. In true Desk fashion, the creator took his editing skills and reflexes to the next level — using two PS4 controllers at the same time to control both characters onscreen! With this tech, he was able to choreograph several handfuls of "martial arts movie"-style fight scenes featuring every character and stage from VF5: Ultimate Showdown. He also used Jacky's VF2 theme song for the video (for those who will enjoy the nostalgic throwback).


Once again, Desk did not use a mod or "tool assist" to create the choreography. He is actually using two controllers simultaneously (and is a normal human with two hands). After uploading his VF5 martial arts flick, Desk followed up by posting this video (below), demonstrating of his technique for using two controllers at once!

Amazing!

See more incredible fighting game videos over at Desk's YouTube.