Virtua Fighter 2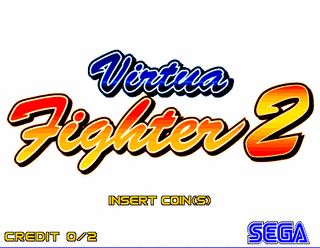 REVIEW: The sequel to Sega's visually innovative 3D fighting game, Virtua Fighter 2 managed to raise the bar yet again in terms of graphics and gameplay. Virtua Fighter 2 impressed arcade-goers of the mid 90's with a silky smooth 60 frames per second (which was indeed groundbreaking for the time), and presented some of the smoothest and most authentic martial arts animation ever seen in a video game to date. Each character vividly shows off his/her own unique fighting style which range from Karate, Jeet Kune Do, Ninjitsu, Pro Wrestling, and Drunken Kung Fu. Like in the prequel, some fighters share some same attacks & animations, but are much more distinguished from one another than in VF1.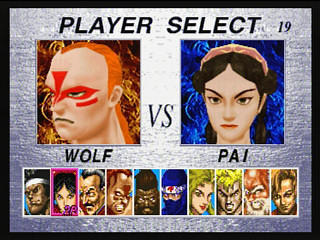 Thankfully, VF's fighters look more like "people" now.

Virtua Fighter 2 added two new characters to the roster: Lion & Shun, each offering a brand new unique fighting style to the series, those being Mantis Style Kung Fu and Drunken Fist. The animations displayed the newcomers' fighting styles were no doubt some of the smoothest and most impressive to date. The brand new stages of VF2 offer great variety and visual depth, and do a great job at showing off Sega's awesome Model 2 arcade hardware. As one of the all time best looking video games in 1994, Virtua Fighter 2 was no doubt a prominent head-turner in arcades. The game was easy to pick up and play, but offered a unique gameplay experience that fighting game fans couldn't get anywhere else at the time.

Along with many gameplay staples from VF1, "High jumping" also returns, enabling fighters to leap into the air and seemingly "float" over their opponents with ease.

There are also a variety of air attacks that can be performed in the air (some character-specific), which can be strategically used for ring-out strategies (and ring-out defense). The super high (and super slow) jumping mechanic is probably VF2's biggest quirk; but at the same time, offers a fun gameplay element when used correctly.

Short jumps are also possible by "lightly tapping" jump, and provide several new attack options.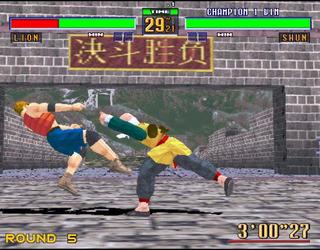 Shun's Drunken Kung-Fu was fluid stuff for 1994.

A worldwide success in the arcades, Virtua Fighter 2 was later ported to the Sega Saturn in 1995 and Microsoft Windows in 1997. While the home ports were decent, neither version could live up to the arcade version graphically. In 1996, a humorous "super deformed / kiddy" version of the game, entitled: Virtua Fighter Kids, arrived in arcades and was also ported to the Saturn the same year. Virtua Fighter 2 also came out on the Sega Mega Drive/Genesis in 1996, but was re-made as a 2D fighter since the hardware couldn't handle the complex visuals of the arcade version. It was a totally different game on the Genesis, and was poorly received by fans.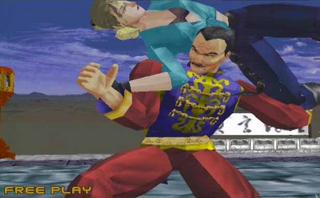 Sarah looks like she's kinda enjoying that.
Page Updated:
December 27th, 2013
Developer(s):
Sega AM2
Publisher(s):
Sega
Designer(s):
Yu Suzuki (producer & director)
Toru Ikebuchi (main programmer)
Kazuhiro Izaki (main designer)
Platform(s):
Arcade, Sega Saturn, Mega Drive/Sega Genesis, Windows, Playstation 3 (PSN), Xbox 360 (XBL), iOS
Release Date(s):
Nov. 1994 (Arcade)
Dec. 1st, 1995 ( Saturn)
1996 (/ Saturn)
1996 (Mega Drive/Genesis)
Sept. 9th, 1997 ( PC)
Sept. 30th, 1997 ( PC)
Nov. 27th, 2012 ( PSN)
Nov. 28th, 2012 ( XBL)
Characters:
Akira, Jacky, Kage, Lau, Jeffry, Sarah, Wolf, Pai, Shun, Lion, Dural

Featured Video:

Related Games:
Virtua Fighter, Virtua Fighter Remix, Virtua Fighter Kids, Virtua Fighter 3, Virtua Fighter 4, Virtua Fighter 4 Evolution, Virtua Fighter 5, Virtua Fighter 5 R, Virtua Fighter 5 Final Showdown, Fighting Vipers, Fighting Vipers 2, Fighters Megamix, Last Bronx, Tekken, Killer Instinct, Art of Fighting 2, Darkstalkers, Super Street Fighter 2 Turbo, King of Fighters '94, X-Men: Children of the Atom

Gameplay Engine
9.0 / 10
Story / Theme
6.5 / 10
Overall Graphics
10 / 10
Animation
9.5 / 10
Music / Sound Effects
8.0 / 10
Innovation
9.0 / 10
Art Direction
7.0 / 10
Customization
5.0 / 10
Intro / Presentation
8.5 / 10
Replayability / Fun
9.5 / 10
"Ouch" Factor
10 / 10
Characters
9.0 / 10
BOTTOM LINE

9.2 / 10

Review based on Arcade version

Final Words:
Virtua Fighter 2 was a vast improvement over the original, wowing arcade-goers with revolutionary graphics and intuitive, straight-forward gameplay. VF2 was one of those games that "raised the bar" during its time, and paved the way for many future 3D fighting games.

I loved playing VF2 back in the day... seriously, I probably put over $100 worth of tokens into that sexy machine. VF2 was hands down the most graphically impressive fighting game at the time of its release, and remained as one of the top 3D fighters for years.

~TFG Webmaster