X-Men: Children of the Atom




REVIEW: Capcom appealed to both fighting game and Marvel fans by turning Marvel's trademark X-men franchise into a 2D fighting game, and an awesome looking one at that. X-Men: Children of the Atom allows you to play as several heroes and villains from the X-men series, in several amazing looking 2D worlds.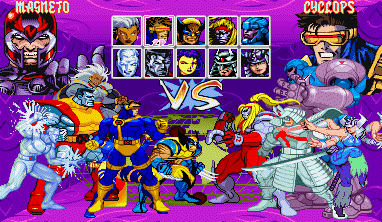 How could you not notice that hot selection screen at the arcade.

The iconic characters were given superb animation by some of Capcom's best artists. Characters from the hit animated TV series (X-men) also retained their original voice actors, which added to the flawless authenticity of this superb 2D fighter. Everything about this game shined visually, and was no doubt one of the best looking and hardest hitting 2D fighting games around.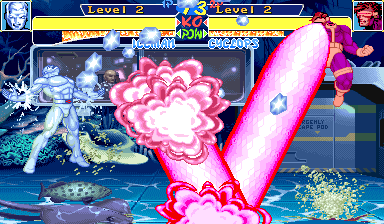 HUGE super moves.

"Super jumps" are introduced for the first time in a fighting game, allowing fighters to leap extra high into the air... promoting aerial combat and supporting some incredibly fast-paced, frantic gameplay. Special moves, flashy super moves, and some insane combos were other notable highlights about this game... not to mention Akuma from the Street Fighter series making an awesome cameo as a secret playable character! Overall, Children of the Atom was fun for the time and "re-defined" the pace for 2D fighting games when it launched.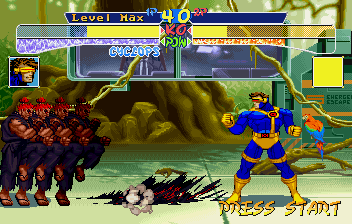 The first fighting game cross-over ever, Akuma's epic cameo as a secret character... it was a sign of things to come. :)
Page Updated:
July 10th, 2014
Developer(s):
Capcom
Publisher(s):
Capcom, Acclaim ( console)
Artwork by:
Akiman (poster artwork)
Platform(s):
Arcade, Playstation, Sega Saturn, PC
Release Date(s):
Dec. 1994 (Arcade)
Nov. 22nd, 1995 ( Saturn)
1996 ( Saturn)
May 31st, 1997 ( PC)
Mar. 3rd, 1998 ( PS1)
Characters:
Cyclops, Wolverine, Storm, Iceman, Colossus, Psylocke, Silver Samurai, Spiral, Omega Red, Sentinel, Juggernaut, Magneto, Akuma

Featured Video:

Related Games:
Marvel Super Heroes, X-Men VS Street Fighter, Marvel Super Heroes VS Street Fighter, Marvel VS Capcom, Marvel VS Capcom 2, Marvel VS Capcom 3, Ultimate Marvel VS Capcom 3, Marvel VS Capcom: Infinite

Gameplay Engine
8.5 / 10
Story / Theme
10 / 10
Overall Graphics
9.5 / 10
Animation
10 / 10
Music / Sound Effects
8.5 / 10
Innovation
9.0 / 10
Art Direction
9.5 / 10
Customization
5.0 / 10
Options / Extras
6.0 / 10
Intro / Presentation
7.5 / 10
Replayability / Fun
7.5 / 10
"Ouch" Factor
8.5 / 10
Characters
8.0 / 10
BOTTOM LINE

8.8 / 10

Review based on Arcade version

Final Words:

X-Men: COTA was noted for spawning the VS series gameplay system. Besides some cheap combos, and the fact that HP & HK were very damaging in this game, one of the only notable downsides to Children of the Atom is the somewhat small character roster. No doubt, die-hard Marvel fans could only ask for MORE of their favorites represented... Capcom later answered with Marvel Super Heroes and X-Men VS Street Fighter.

X-Men: COTA was unquestionably an innovative fighting game for the time and also one of the best looking 2D games on the market in 1994/1995. ~TFG Webmaster