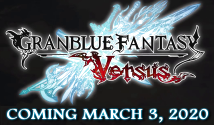 With a new English version trailer, XSEED Games announced Arc System Works' highly-anticipated 2.5D fighter Granblue Fantasy Versus is releasing in North America on March 3rd, 2020. There will be both Standard ($59.99) and Premium ($79.99) Edition physical versions of the game available at launch. Like the international versions, the physical North America Premium Edition includes an art book, soundtrack, color pack DLC, character avatar set, exclusive PS4 theme, special content for the mobile game, and the premium box with exclusive artwork. Watch the North America / Europe release date Announce Trailer for Granblue Fantasy Versus complete with English voiceovers for all characters, below!


Here's a shot of the PS4 North America Premium Edition contents.


Stay tuned on Fighters Generation for fighting game news.