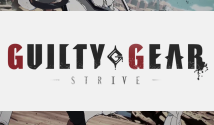 During this weekend's Japan Amusement Expo 2020, Arc System Works hosted Guilty Gear -STRIVE- gameplay exhibition featuring some pro-level players. Series creator Daisuke Ishiwatari and battle director Akira Katano were in attendance alongside GGXrd pros FAB, Samitto, Roy, and Ain. While GGStrive looks stunning and players who've tried out the early build of the game are enjoying it, many have reacted negatively towards the game's reworked "plain" UI. The devs have confirmed the current UI is just a placeholder, as they will be redesigning the user interface (among other visual elements) for the final release. *In the stream archive below, Daisuke Ishiwatari appears on stage at around 6:47. New gameplay begins at 15:12.


Guilty Gear -STRIVE- is planned for a Late 2020 release.

Stay tuned on Fighters Generation for Guilty Gear -STRIVE- news!