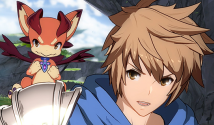 The vibrant upcoming 2.5D fighting game by Arc System Works, Granblue Fantasy Versus, will have a closed beta version playable exclusively on PlayStation 4 that takes place May 31st - June 1st, 2019. The online application form to sign up for the beta test is now live on the official Granblue website. Anyone can participate in the beta, but keep in mind you must have a PS4 Plus subscription to be eligible! Selected applicants will receive their voucher code for the beta on May 21st-22nd. The deadline to submit your beta application is May 23rd, 2019 (11pm PST).


Have a look at some beautiful Granblue Fantasy Versus character artwork and HD screens, and rewatch the most recent trailer inside TFG's previous article.

TFG has access to the GBVS beta so expect some exclusive gameplay videos & streams later this month (and in June)!