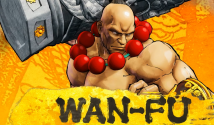 SNK released the gameplay reveal trailer for Wan-Fu, the final Season 1 DLC character of Samurai Shodown (2019). Most similar to his Samurai Shodown II roots, the 2019 version of Wan-Fu has him fighting his adversaries with a giant stone pillar once again. SNK also confirmed Wan-Fu's release for this Wednesday, December 18th. Take a look at Wan-Fu's gameplay reveal trailer and see if it brings back any Samurai Shodown II nostalgia. Wan-Fu's trailer (below) even features a remix of Wan-Fu's classic SS2 theme!


After the conclusion of Season 1, SNK will update the game with Season 2 starting
with Mina Majikina as the first DLC character of the new season.

Stay tuned in on Fighters Generation for more Samurai Shodown news.