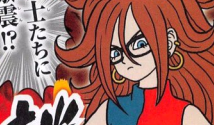 3 new playable characters have been announced for Dragon Ball FighterZ, including a brand new character to the franchise (and designed by Akira Toriyama), Android 21. The new android is a scientist whose intellect equals that of Dr. Gero's. Android 21 will play a big role in the game's story mode which tells a "What if" story featuring Android 16. Furthermore, Yamcha and Tien Shinhan will bring their awesome fighting skills to the fray. Check out the scans from the latest issue of V-Jump, below.


Pictured below, Yamcha will have his Spirit Ball special move, Neo Wolf Fang super move, and he is said to be a specialist in ground combat. Tien Shinhan will have his Kikouhou, Dodonpa, Haikyuuken, and Neo Tri-Beam Meteor super. Chaozu will act as an assist character for him. [UPDATE] Check out HD screenshots of Yamcha and Tien in TFG's updated article.


Dragon Ball FighterZ is coming to Playstation 4, Xbox One, and PC in February 2018. Stay tuned on FightersGeneration.com for full coverage of this highly anticipated title.