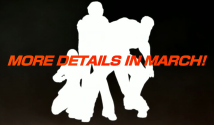 At The King of Fighters XIV World Championships, SNK announced some new content coming soon to the game! Firstly, the "Classic" Iori Yagami costume will be releasing on February 23rd. This Spring, Kula, Angel, Sylvie & Meitenkun will also be getting brand new DLC costumes. Now for the BIG News... [UPDATE #1] What looks like a total of "4" character silhouettes are seen the new DLC teaser trailer (below)! Also, a remake of Terry Bogard's Fatal Fury 2 stage and a remake of KOF '97's Monaco stage are headed to KOF XIV.


Of course, we'll keep you updated as soon as we have more information. [UPDATE #2/#3] Until we know who the new characters are, enjoy these clever conceptual sketches by NegreScore0 and Okyochan of who the silhouettes might be!


[UPDATE - Mar. 30th, 2017] They almost got it right...

As you probably know by now, the four DLC characters are indeed Rock Howard, Vanessa, Ryuji Yamazaki, and Whip. All four become available as KOF XIV DLC in on April 5th for $4.99 each. Check out their reveal trailers and read more about KOF XIV version 2.00 in TFG's updated article.