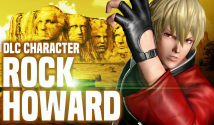 The fourth DLC character for The King of Fighters XIV has been confirmed. The main protagonist of Garou: Mark of the Wolves officially joins The King of Fighters XIV. Check out Rock's reveal trailer to see how Terry's disciple looks in his KOF XIV incarnation. In addition to Garou: MOTW, Rock previously appeared in the KOF Maximum Impact series, NeoGeo Battle Coliseum, and Capcom VS SNK 2. [UPDATE - Apr. 2nd] Added 2 new videos with Rock Howard KOF14 gameplay and combos.


[UPDATE - Mar. 30th] Rock Howard, along with Vanessa, Ryuji Yamazaki and Whip, will become available as KOF XIV DLC on April 5th for $4.99 each. KOF XIV version 2.00 will also include 2 new stages (free), character balance updates, new background music, "action record" and "playback" feature during dummy reversals in training mode, along with other feature improvements and bug fixes.


Stay tuned on FightersGeneration.com for continued coverage of KOF XIV.