Friday, March 22nd, 2019

Cary-Hiroyuki Tagawa Reprises His Role as Shang Tsung in Mortal Kombat 11, Noob Saibot Revealed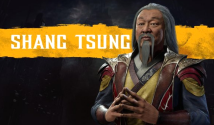 It's been confirmed that the actor who played Shang Tsung in the original Mortal Kombat live-action movie, Cary-Hiroyuki Tagawa, will reprise his role as the shape-shifting sorcerer once again in Mortal Kombat 11. Not only will Shang Tsung be the first playable DLC character in MK11, he'll also be your guide in MK11's "Krypt" mode. Check out a new trailer highlighting Shang Tsung and The Krypt. Additionally, NRS revealed Noob Saibot as part of MK11's base roster with yet another trailer.


Stay tuned on FightersGeneration.com for continued coverage of Mortal Kombat 11.

Sources: Izuniy, Mortal Kombat (YT)
Related News: (3-20-2019): MK11 Kotal Kahn Reveal Trailer,
(3-6-2019): MK11 Story Trailer Reveals Erron Black, Cassie, Jaqui & Kotal Kahn,
(2-27-2019): Mortal Kombat 11 Johnny Cage Reveal Trailer,
(2-15-2019): Jade Confirmed for Mortal Kombat 11,
(2-5-2019): MK11 Kabal Gameplay, D'Vorah Confirmed,
(2-1-2019): Kano Announced for Mortal Kombat 11
Related TFG Links: Mortal Kombat 11, Shang Tsung, Noob Saibot

Visit SHOP TFG to check out
awesome and rare fighting
game items for sale on FightersGeneration.com!

*NEW ITEMS ADDED*
FEB. 5th, 2019!

✔ FOLLOW FIGHTERSGEN ON:





.