Tuesday, March 26th, 2019

Mortal Kombat 11 Story Trailer Confirms Jax Briggs, Kung Lau & Liu Kang as Playable Characters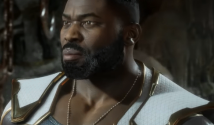 NetherRealm Studios uploaded the third official story trailer for Mortal Kombat 11. Over 2 minutes long, the "Old Skool Vs. New Skool" trailer highlights more of the epic action fans can expect out of MK11's cinematic story mode. The latest trailer also confirms returning veterans Jax Briggs, Liu Kang, and Kung Lao as playable characters. Kitana also makes a brief appearance in the trailer (hinting at her impending reveal), but only the aforementioned fighters have been confirmed thus far.


Stay tuned on FightersGeneration.com for continued coverage of Mortal Kombat 11.

Source: PlayStation
Related News: (3-20-2019): MK11 Kotal Kahn Reveal Trailer,
(3-6-2019): MK11 Story Trailer Reveals Erron Black, Cassie, Jaqui & Kotal Kahn,
(2-27-2019): Mortal Kombat 11 Johnny Cage Reveal Trailer,
(2-15-2019): Jade Confirmed for Mortal Kombat 11,
(2-5-2019): MK11 Kabal Gameplay, D'Vorah Confirmed,
(2-1-2019): Kano Announced for Mortal Kombat 11
Related TFG Links: Mortal Kombat 11, Jax Briggs, Liu Kang, Kung Lao

Visit SHOP TFG to check out
awesome and rare fighting
game items for sale on FightersGeneration.com!

*NEW ITEMS ADDED*
FEB. 5th, 2019!

✔ FOLLOW FIGHTERSGEN ON:





.