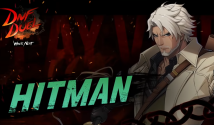 *It's NOT just another character trailer this time!

After weeks of nothing but new character reveal trailers, Nexon and Arc System Works dropped some actual DNF Duel news today (in addition to, yes... another new character reveal trailer).

First up, the news: An open beta test for Dungeon Fighter Duel was officially announced and will take place this weekend on PlayStation 5 and PlayStation 4 from December 17th-20th. (Scroll down to view the time zones and specific times for the open beta.) In addition to the beta announcement, the "Hitman" class gameplay reveal is included in the latest official trailer for DNF Duel (below). As you can see in the video's thumbnail, more new DNF Duel characters will continue to be revealed in the weeks to come. So stay tuned!


So far, Arc System Works and Nexon haven't provided any further details regarding the playable beta, nor have they detailed the game's systems or mechanics. At this moment, potential beta participants still have no idea how to play DNF Duel or what exactly to expect from the gameplay... so hopefully, some kind of tutorial / beta guide (or character movelists at the very least) will be posted online sometime this week. [UPDATE]

Nexon shared character movelists for the 10 playable fighters in the beta.


Coincidently or not, SNK also has the second open beta for The King of Fighters XV planned to go live this weekend. Fighting game players on PS5 / PS4 looking to participate in both open beta tests will be busy this weekend, to say the least!

For your convenience, here's another look at the KOF15 beta schedule (below) if you plan on splitting your time between both games this weekend.


Keep it here on Fighters Generation for more fighting game news and content.

~TFG Webmaster, Frank Joseph

|

@Fighters_Gen