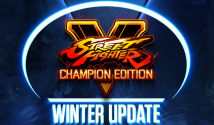 Today on Twitter, Capcom USA announced an upcoming livestream planned for Thursday, February 11th, 2021 (starting at 9:00am PST) will reveal new information on Street Fighter V: Champion Edition's Winter Update. Judging from the tweet, it looks like we can expect new footage of Season 5's Dan Hibiki, details about the new gameplay mechanic, and more. On the Capcom Fighters stream, the SFV development team will also be accompanied by some (unannounced) "special guests". Upcoming DLC characters Akira Kazama, Rose, and Oro were previously announced for SFV Season 5 — so perhaps we may see a new teaser or trailer for one of these upcoming fighters. (The next DLC character to be added after Dan is Rose, btw.)

Below, take a look at the official tweet and promotional image for the upcoming stream via Capcom USA's Twitter.



Keep it here on Fighters Generation for upcoming SFV Season 5 news!