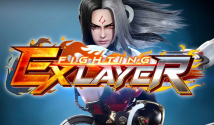 Arika released a new teaser trailer for Fighting EX Layer. The "screenshot-only" trailer shows off the game's user interface (UI), PS4 trophy support, and a still image of new character, Sanane. In addition, Arika announced on Twitter that the PS4 Pro version will run at 1080p with "shader level 3" while the standard PS4 version will run at 720p with "shader level 1". Arika also mentioned FEXL will release worldwide by the end of June 2018.


Lastly, Arika said they plan to bring a new build of game to Combo Breaker 2018 featuring 12 playable characters and 5 Gougi decks.

Stay tuned on FightersGeneration.com for full coverage of Fighting EX Layer.