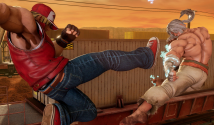 As promised, Arika updated the community with their 2019 schedule for Fighting EX Layer. Terry Bogard, Sharon, and Area are officially on the way to FEXL in 2019, and Arika posted some brand new HD screenshots to confirm the 3 upcoming fighters. Arika stated that 2 of the upcoming characters will be "free" and acknowledged this is a "risky" move in today's industry standard of paid DLC. However, 1 of the new characters will be a paid DLC add-on (most likely Terry Bogard). Scroll down to check out the new screenshots and Arika's full 2019 schedule.


Arika also posted this short 35-second video featuring Sharon firing her gun, with the in-game camera rotating around her. (Will they be adding a Photo Mode to the game?)


Below is the official 2019 schedule Arika posted for Fighting EX Layer - January through May. As previously stated, Arika will be simultaneously working on the Steam, Arcade, and PlayStation 4 versions.

Fighting EX Layer - January-May 2019 Schedule
January 2019 - Arcade version patch, attacks & systems will be updated slightly.
February 2019 - Possible game adjustment and adding music to the game.
March 2019 - Arika plans to release 1 character at the end of March for free.
May 2019 - By the end of May 2019, Arika plans to release 2 more characters (one free, on paid DLC). Whether they release them at the same time or separately is undecided.
Arika stated "Releasing characters for free on our development budget is a very risky bet. We are glad if you forgive us for taking the time to do so."

Stay tuned on FightersGeneration.com for continued coverage of Fighting EX Layer.