>
Saturday, March 23rd, 2019

Fighting EX Layer Terry Bogard & Sharon Gameplay Trailers, Both DLC Fighters Now Available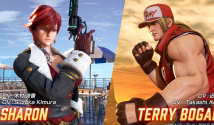 Arika posted new Fighting EX Layer gameplay trailers for the latest DLC characters for the game, Terry Bogard and Sharon. Both characters are now available in FEXL following the version 1.2.0 patch. While Sharon is a free DLC character, Terry Bogard is available for $4.99 as FEXL's first paid DLC fighter. After watching the new trailers, you can also read up on Arika's backstories for both Terry and Sharon.

Terry Bogard's Backstory: "Morning. Terry drinks his usual morning coffee, puts on his usual outfit, and steps outside. However, he notices something is different in the air. "This place…where am I?"

Sharon's Backstory: "After abandoning her past in order to spend her days peacefully with her lover, Sharon is blackmailed by the Secret Service and forced back into one more mission investigating a mysterious energy source. Telling herself this will be her final mission, she separates from her lover one last time."

Stay tuned on FightersGeneration.com for continued coverage of Fighting EX Layer.

Sources: Fighting EX Layer (Twitter), Arika (YouTube)
Related News: (12-18-2018): FEXL Screenshots of Terry, Sharon, Area, 2019 Schedule,
(12-9-2018): Fighting EX Layer Steam Version 4k Screenshots,
(11-14-2018): Fighting EX Layer Comes to PC, Release Schedule,
(10-2-2018): Fighting EX Layer Meets Sales Expectations on PS4
Related TFG Links: Fighting EX Layer, Terry Bogard, Sharon

Visit SHOP TFG to check out
awesome and rare fighting
game items for sale on FightersGeneration.com!

*NEW ITEMS ADDED*
FEB. 5th, 2019!

✔ FOLLOW FIGHTERSGEN ON:





.