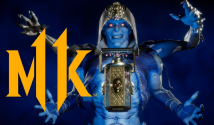 NetherRealm Studios has revealed the fourth original character to appear in Mortal Kombat 11, the Kollector. "A proud servant of the Outworld Empire, the Kollector cares only for his wealth and status and will kill anyone to keep it." A loyal henchman to Shao Kahn, the Kollector uses a variety of tools and dangerous trinkets against his enemies. He also has four arms... and knows how to use them in battle. Check out The Kollector's official reveal trailer below.


Additionally, NetherRealm uploaded Episode 7 of the Kombat Kast, featuring additional gameplay of The Kollector, Erron Black, Noob Saibot, and more characters.


Stay tuned on FightersGeneration.com for continued coverage of Mortal Kombat 11.