POSTED: Tuesday, August 21st, 2018 (Aug. 25th, 2018)

Tira Revealed for Soul Calibur VI Along With Libra of Soul "2nd Story Mode" and Character Creation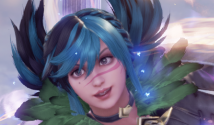 Bandai Namco dropped two exciting Soul Calibur VI trailers at Gamescom '18. First up is Tira's reveal trailer, which confirms her as a DLC character (a free bonus character for Season Pass owners). The second trailer introduces Soul Calibur 6's Libra of Soul mode, which is described as a "second story mode" featuring your created character of choice. Also check out the first footage and screenshots of Soul Calibur 6's Create-a-Character mode!

Character Bio: Tira, the Bird of Death, is announced as a bonus character for those that purchase the Season Pass. Tira will also be sold as a stand-alone DLC.

Tira, an expert wielder of her Ring Blade named Eiserne Drossel, fights using her own Dance of Death style. Trained by the mysterious Birds of Passage group of assassins, Tira abandoned the group after its leader went mad. Alone and angry, Tira, travels across the world, slaughtering any that get in her way – taking great pleasure in the trail of blood in her wake.

Tira returns to the stage of history with her iconic Ring Blade. Her SC6 fighting style will retain her two "moods": Jolly and Gloomy - which alter her attacks and abilities.
LIBRA OF SOUL MODE
Libra Of Soul is the second story mode in Soul Calibur VI, joining the already-revealed Chronicle of Souls mode. In this game mode, players will be able to create their own custom fighter from scratch before roaming the world in a quest to stop a new evil mastermind at work to gather Soul Edge shards. Along the way, players will come up against both characters from across the main storyline, and warriors created by the community, fighting in a variety of rule-specific showdowns which shape their own path.

Players will be able to customize their unique characters through thousands of different combinations, choosing from 16 races, including human, lizard or even living skeleton, before customizing the size, facial features, hairstyle, clothes, armor and, of course. weapons and fighting style!

[UPDATE] The mysterious magician who appears in the Libra of Soul trailer is known as Azwel. Check out his reveal trailer here.

Stay tuned on FightersGeneration.com for full coverage of Soul Calibur VI.

Sources: Bandai Namco, Avoidingthepuddle, Wonkey
Related News: (8-5-2018): Astaroth & Seong Mi-Na Announced for SC6,
(7-25-2018): Soul Calibur 6 Battle Mechanics Blog with Producer Okubo,
(7-21-2018): Over 12 Mins of Voldo SC6 Gameplay, Character Breakdown,
(7-20-2018): Voldo Announced for Soul Calibur VI,
(7-7-2018): High level Soul Calibur VI Gameplay Roundup,
(7-5-2018): Soul Calibur 6 Talim Reveal Trailer, Artwork, Screens,
Related TFG Links: Soul Calibur 6 - Preview / Art Gallery, Tira, Lizard Man

Visit SHOP TFG to check out
awesome and rare fighting
game items for sale on FightersGeneration.com!

*NEW ITEMS ADDED*
SEPT. 14th, 2018!

✔ FOLLOW FIGHTERSGEN ON:





.