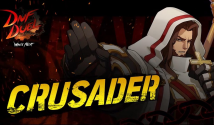 The 10th playable character of DNF Duel is upon us. The Crusader class brings Holy strength and a huge hammer to battle. His official description from Nexon is as follows: "The agent of God has arrived! Watch the Crusader deliver Lemidios's will through holy strength and purpose in his gameplay video!" Enjoy Crusader's official gameplay video, below !" *Additional information about DNF Duel's characters will be available soon! (TFG profiles and bios will also be online soon.)

Enjoy the latest trailer for Dungeon Fighter Duel, below.


In related news, Nexon released character movelists for all 10 playable characters featured in the beta.

In case you missed the last few reveal trailers for DNF Duel, also check out the official gameplay trailers for Kunoichi, Vanguard, Dragon Knight, and Hitman. You can also scroll further down on this page for convenient links to each of the reveal trailers. You're welcome!

Once again, an open beta for Dungeon Fighters Duel will take place this weekend exclusively on PlayStation 5 and PlayStation 4 (Dec. 17-20). Stay tuned on Fighters Generation for more DNF Duel coverage.

~TFG Webmaster, Frank Joseph

|

@Fighters_Gen