Thursday, October 15th, 2020

Guilty Gear -Strive- PS5 / PS4 Box Art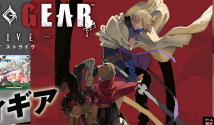 Arc System Works has unveiled the official final box artwork for Guilty Gear -STRIVE-. As you might know, this is the first box art shown for any PS5 fighting game. While the specifics of the PS5 visual upgrades over the PS4 version aren't currently known, we do know the PS5 edition will have an exclusive Special Battle Mode with a "Tag Team" or "Assist" feature. (This is likely due to the extra processing power required for having up to 4 characters onscreen at once.) More details coming soon. Until then, enjoy the awesome high quality GGStrive box artwork!

Sources: Famitsu, ArcSystemWorks (Twitter)
RELATED NEWS | OCTOBER 11TH, 2020
Giovanna Revealed for Guilty Gear -STRIVE-

Arc System Works has revealed a brand new character for Guilty Gear -STRIVE- named Giovanna. We've got Giovanna's reveal trailer and official character artwork so you can take a closer look at her design! Season Pass 1 was also announced which will include 5 new characters, extra colors, 2 new stages, and extra story content.

Related News: (10-15-2020): Guilty Gear STRIVE Online Lobby System / Avatars,
(10-12-2020): Guilty Gear Strive DELUXE, ULTIMATE Editions, Release Date,
(10-9-2020): Arc System Works ARCREVO 2020 Online Event,
(9-30-2020): Guilty Gear x KOF is Happening in KOF '98 UM OL,
(9-17-2020): PlayStation 5 Has 4 USB Ports, Launch Price + Accessories,
(9-8-2020): Guilty Gear -STRIVE- Developers Backyard #3,
(7-31-2020): Nagoriyuki & Leo Whitefang Revealed for GGStrive
Related TFG Links: Guilty Gear -STRIVE-, Ky Kiske, Sol-Badguy | TFG NEWS

✔ FOLLOW FIGHTERSGEN ON: