The King of Fighters '98: Ultimate Match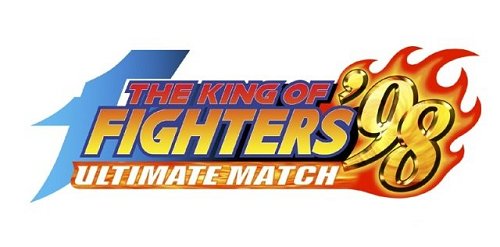 STORY: In terms of plot, KOF '98: Ultimate March does not have a story and was developed as a "dream match" with characters from all previous installments of King of Fighters.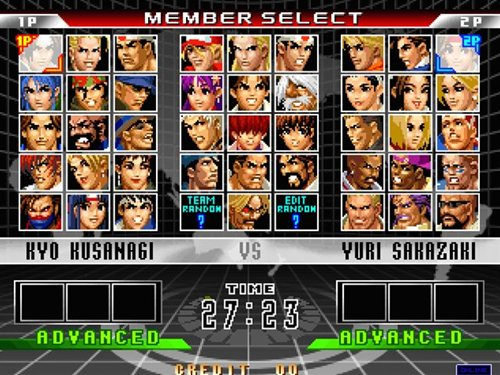 The definitive version of King of Fighters '98.

REVIEW: Originally featuring a total of 38 characters, The King of Fighters '98 was no doubt a fan favorite installment to the series due to the large character roster and quality 2D gameplay. 10 years later, the Ultimate Match re-release enhances the classic game with 7 new playable characters, special EX versions of characters not featured in the original version, and several new stages.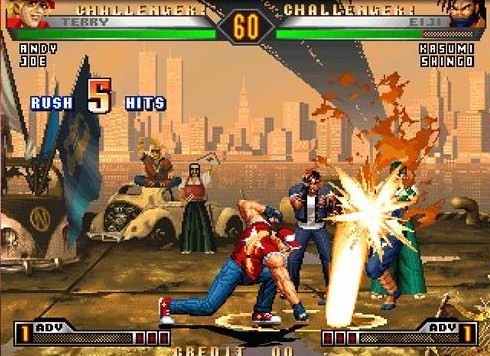 One more Powaa Gyssaaaa for old times sake.


Along with the "Advance" & "Extra" play options from the original, a new "Ultimate" mode is now selectable, which is a customizable style that lets players choose between features from Advance or Extra mode, such as which kind of power gauge to use. A "Neo Geo" mode is also available in the package, which is a direct port of the original Neo Geo console version. The home package of Ultimate Match also includes Gallery Mode with a variety of classic artwork to browse through.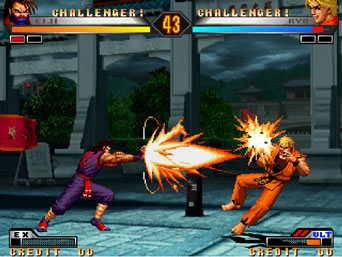 Eiji is so ninja, he wasn't even in the original KOF '98!

A "Final Edition" of King of Fighters '98: Ultimate Match was released in Japanese arcades in January 2011 and on PC via Steam on December 16th, 2014. This version features several tweaks to characters and game mechanics.


(Animated)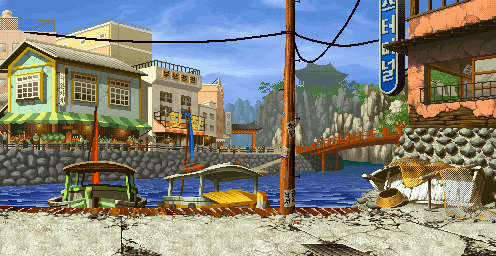 Page Updated:
September 24th, 2019
Developer(s):
SNK
Publisher(s):
SNK
Artwork By:
Hiroaki & Shinkiro Poster Art
Platform(s):
Arcade, PlayStation 2, PSN , Xbox 360, PC
Release Date(s):
Mar. 18th, 2008 Arcade
June 26th, 2008 PS2
Mar. 3rd, 2009 PS2
July 1st, 2009 Xbox 360
Jan. 24th, 2011 Arcade - as KOF '98: UM Final Edition
Dec. 16th, 2014 Steam - as KOF '98: UM Final Edition
Characters:
Kyo, Benimaru, Daimon, Andy, Terry, Joe, Ryo, Robert, Mai, King, Yuri, Ralf, Leona, Clark, Athena, Kensou, Chin, Chizuru, Yashiro, Shermie, Chris, Mature, Vice, Iori, Chang, Kim, Choi, Yamazaki, Blue Mary, Billy Kane, Heidern, Takuma, Saisyu, Heavy D, Lucky, Brian, Shingo, Eiji, Kasumi, Geese, Krauser, Mr. Big, Goenitz, Orochi, Rugal, Omega Rugal

Featured Video:

Related Games:
KOF '98, KOF 2002: Unlimited Match, KOF Collection: Orochi Saga, KOF '94, KOF '94: Re-bout, KOF '95, KOF '96, KOF '97, KOF '99, KOF 2000, KOF 2001, KOF 2002, KOF 2003, KOF XI, KOF XII, KOF XIII, KOF XIV, KOF XV, KOF: Maximum Impact, KOF: Maximum Impact MANIAX, KOF: Maximum Impact 2, KOF: Maximum Impact Regulation A, KOF: Neowave, KOF EX Neo Blood, KOF EX2 Howling Blood, KOF R1, KOF R2

Gameplay Engine

7.5 / 10

Story / Theme

7.5 / 10

Overall Graphics

6.0 / 10

Animation

6.0 / 10

Music / Sound Effects

6.5 / 10

Innovation

6.0 / 10

Art Direction

7.0 / 10

Customization

8.0 / 10

Options / Extras

8.5 / 10

Intro / Presentation

8.0 / 10

Replayability / Fun

7.0 / 10

"Ouch" Factor

7.5 / 10

Characters

8.5 / 10

BOTTOM LINE

7.8 / 10

Review based on PS2 version

Final Words:

For a decade-old 2D fighting game, KOF '98 holds up rather well. In some ways, it does look and sound it's age in this high-def era of gaming. For fighting game fans looking to be "wowed" by graphics or animation, KOF '98 is definitely going to look last-gen.

However, if you've never checked out KOF '98, this updated version is a great way to experience the classic... and get you acquainted with some of the KOF series' most iconic characters. For hardcore KOF '98 players, obviously, Ultimate Match is pretty much a timeless, must-own title. Get those old teams back in shape! ~TFG Webmaster