Friday, October 16th, 2020

Guilty Gear XX Accent Core Plus R Steam Version GGPO Rollback Netcode Open Beta Begins Oct. 29th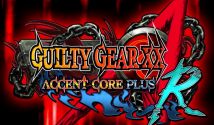 Taking a page out of SNK's recent playbook, Arc System Works is implementing a rollback netcode enhancement for the final installment of the classic Guilty Gear XX series — a popular game in the competitive Guilty Gear community. An open beta for testing GGPO rollback netcode in the Steam version of Guilty Gear XX Accent Core Plus R will begin two weeks from now on October 29th, 2020. The open beta will include online lobbies and online spectating. XX Reload and XX Slash stages will also be unlocked for online play by default. Below is Arc System Works' tweet announcing the news.

Keep it here on Fighters Generation for Guilty Gear series news.
Source: ArcSystemWorks (Twitter)
RELATED NEWS | OCTOBER 15TH, 2020
Guilty Gear -STRIVE- PS5 Box Artwork

Arc System Works has unveiled the official final box artwork for Guilty Gear -STRIVE-. As you might know, this is the first box art shown for any PS5 fighting game. The PS5 edition will have an exclusive Special Battle Mode with a "Tag Team" or "Assist" feature. More details coming soon. Until then, enjoy this awesome high quality GGStrive PS5 box art!

Related News: (10-15-2020): Guilty Gear STRIVE Online Lobby System / Avatars,
(10-12-2020): Guilty Gear Strive DELUXE, ULTIMATE Editions, Release Date,
(10-11-2020): Giovanna Revealed for Guilty Gear -STRIVE-,
(10-9-2020): Arc System Works ARCREVO 2020 Online Event,
(9-30-2020): Guilty Gear x KOF is Happening in KOF '98 UM OL,
(9-17-2020): PlayStation 5 Has 4 USB Ports, Launch Price + Accessories
Related TFG Links: GGXX Accent Core +R, Guilty Gear -STRIVE- | TFG NEWS

✔ FOLLOW FIGHTERSGEN ON: